Job losses in tech sectors may reduce home sales in IT hubs
The Indian media has already begun speculating on the impact of layoffs in IT sector on other parts of the economy. Take for example the Real Estate sector, which was already struggling post demonitization of Indian money. Some industry watchers are closely looking at the impact of layoffs and slowdown in IT sector on the housing market, especially in major cities like Bangalore, Hyderabad, Pune, Chennai and elsewhere.
Against a backdrop of such news and layoffs comes news that
TCS plans to add 3.75 L sq feet office space in Bengaluru
Job losses in tech sectors may reduce home sales in IT hubs (Economic Times)
MUMBAI | BENGALURU: Recent news regarding job losses in the key information technology sector that has driven job creation over last two decades is threatening to unnerve residential real estate in IT hubs across the country.
The unfolding scenario may push homebuyers in major property markets in cities including Bengaluru, Hyderabad, Pune, Chennai and Gurgaon into a shell at a time when housing sales had just started to gather pace.
"The residential market is largely driven by sentiments and a very important factor responsible for this is sustainable job and income generation. As major chunk of the homebuyers depend on home loans, which is a long term financial obligation," said Samantak Das, chief economist and national director, Knight Frank India.
"Whether the actual job losses are happening or not, but information floating about this is likely to shake confidence of homebuyers."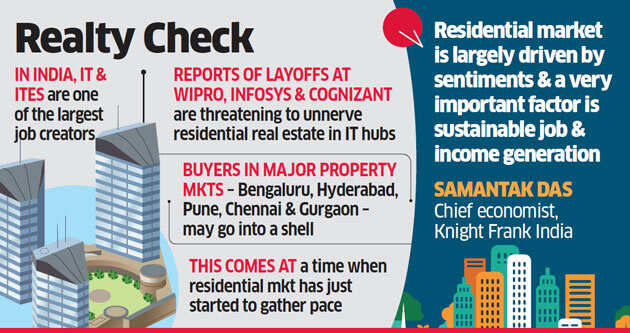 ET Realty
IT job loss buzz threatens to impact home sales in major tech hubs (ET Realty)
In India currently, the IT and ITenabled services sector is driving the economy and is one of the largest job creators. Of late, media reports of layoffs at Wipro, Infosys Tech and Cognizant have been creating ripples in the industry.
However, experts said the situation definitely does not warrant such panic, especially at a time when residential market is seeing the green shoots of a recovery.
In the backdrop of the government's push for affordable housing, subventions under Prime Minister Aawas Yozna and lower interest rates, residential sales across the top 8 cities have seen a 21 per cent increase on sequential basis in the quarter ended March. The growth in housing sales was led by Kolkata with 47 per cent rise, Hyderabad with 43 per cent and Ahmedabad at 30 per cent, showed data from Liases Foras Real Estate Rating & Research.
The quarter saw 61,214 units being sold across these key markets against 50,788 units during the quarter ended December, when the government's demonetisation also bit off a large chunk of sales.
Large-scale IT layoffs likely to hit realty hard
The real estate sector in the city and other parts of the two Telugu states, which is limping back to normalcy post disruptive demonetisation phase, is likely to receive another jolt if the software companies go for large-scale layoffs.
Information technology sector which employs over 2.5 lakh directly and thousands of others indirectly in the city is a lifeline for the realty sector not only in Hyderabad, but also in other parts of Andhra Pradesh and Telangana as people from across the two states work in the city's software sector hotspots.
This high-profile sector seems to be heading for a crisis now with IT biggies resorting to layoffs following curbs on H1-B visas and outsourcing imposed by the Donald Trump-led US government. Widespread automation in software development space has a bearing on the Indian IT jobs too. Conservative estimates put layoffs in the Indian IT sector so far this year at 10,000, including 4,000 in Hyderabad.
A recent study by McKinsey and Company revealed that over 6 lakh IT jobs of the total 13 lakh in the country are at risk over the next three years. "It's a regular practice among the IT companies to let go five to six per cent of their employees every year on the performance basis. It's okay for us if that is case this year. However, real estate sector will definitely be impacted adversely if there are large-scale layoffs," a real estate company chief told The Hans India.